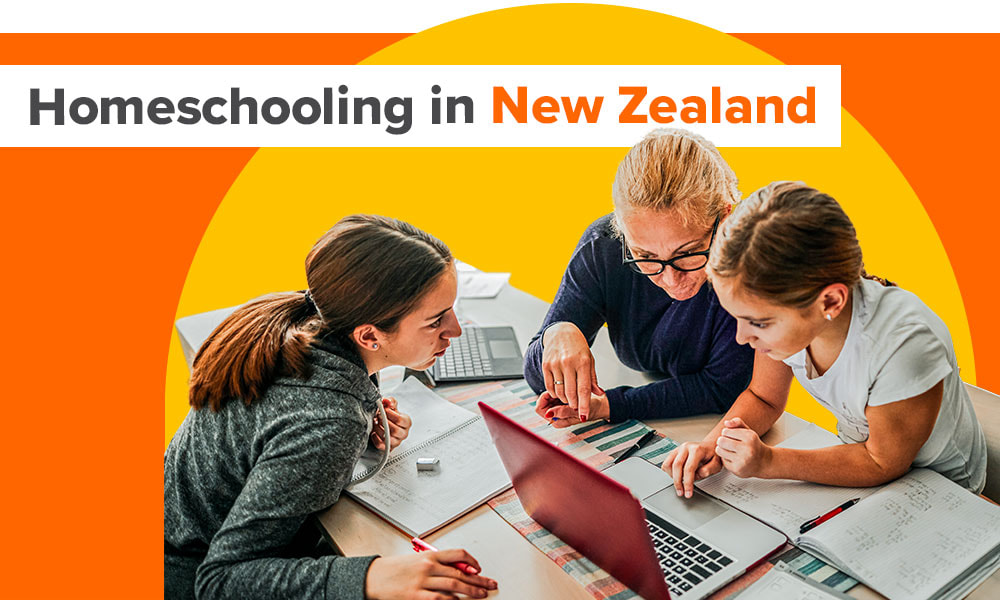 Why homeschool
There are 101 reasons why parents decide to teach their children at home. It could be that they're not satisfied with the formal schooling system, that it doesn't fit their religious or philosophical beliefs, or they simply want to be more involved in their children's education.
Originally set up in 1922 to cater for the most isolated students, homeschooling became more popular in New Zealand in the 1970s and 80s. Many people homeschool because their child didn't fit in at school, or they feel that their learning needs were not met in a normal school setting. Concerns about bullying are another consideration, and it's an option for families that travel or live far out of town.
The Covid-19 pandemic caused another surge of interest. July 2020 saw the biggest-ever increase in homeschooling enrolments yet, with 619 more children learning from home than at the same time the year before. As of 1 July 2020, there were 7,192 home-schooled students in New Zealand, which is 0.9% of the total school enrolments.
Discover the top reasons parents choose to homeschool >>
Learn how
Cluey

can help you with homeschooling support

Find out why New Zealanders are choosing Cluey's homeschool programmes
How to get started homeschooling in
New Zealand
Every family is different, and they all experience their own benefits and challenges when they decide to homeschool. This non-traditional approach to education is fully legal and possible in New Zealand. However, as it's compulsory for students between the ages of 6 and 15 to be enrolled in a school, you'll need an exemption from the Ministry of Education if you want to educate your child at home.
Essentially, parents or caregivers must satisfy the Secretary of Education that their child will be taught "as regularly and as well as in a registered school." Children with special education needs will need to be taught "at least as regularly and well as in a special class or clinic or by a special service". Once an exemption from enrolment is granted, the Education Review Office (ERO) is responsible for monitoring the teaching that the children receive.
Who can home educate?
Any parent or legal guardian of a child aged between 5 and 16 years of age may apply to home educate.
How do I apply?
You will need to complete an application form and prepare the required supporting documents, then send them to your local Ministry of Education office.
The Ministry can only issue a Certificate of Exemption when it is satisfied that you are willing and able to be responsible for an appropriate programme of education for your child (ie. that your child will be taught at least as regularly and as well as they would at a registered school).
The application form asks you to provide full details about how you intend to home educate your child, including:
A description of your home education approach, philosophy and/or curriculum
A description of intended learning areas and/or subjects
A description of the resources and reference materials you have available to teach your child, and an explanation of how you intend to use them
Short- and long-term educational goals for your child
An example of a special project or topic plan covering learning goals, resources, teaching methods, progress and achievement measures
A description of how you intend to measure and record progress and achievement in relation to the learning goals
A demonstration of regularity – when, how often and for how long you will teach your child
Further guidance is available in the application form and guidance document.
How to successfully register for homeschooling
As part of your application, you must submit a plan for home education which aligns with the learning outcomes set out by the Ministry of Education. You can either develop this plan yourself, download a template from online or purchase a curriculum from a homeschooling provider.
Home education programmes can use a broad range of teaching styles and methods. While flexible, your home education programme is required to meet three criteria:
Be sufficiently broad
Be age appropriate
Include strong literacy and numeracy components
Successful home education programmes are tailored to each child's individual needs and interests. They can be unique to each family's circumstances and facilitate learning according to your specific philosophy.
How to choose the best homeschool curriculum for you
Many parents choose to homeschool because they believe that teaching and learning isn't a one-size-fits-all scenario.
If you decide to take on the responsibility for homeschooling your child, the curriculum you choose needs to be the best match for their needs. This will make your job easier, and ensure the best outcome in the long run.
Discover how to choose the right homeschool curriculum >>
Homeschooling Styles: Which method is right for you?
When should I apply
You may apply to home educate any time after your child turns 5 years old, to come into effect when your child turns 6.
Why choose
Cluey

homeschooling support

If you're not comfortable teaching one or more subjects, or if you're looking for some extra support which aligns with your approach or method, Cluey is an excellent learning partner. Our flexible, online model means that your child can log in to our online platform from anywhere, utilising video, audio and collaborative whiteboard capabilities.

You can choose the areas you'd most like to focus on and specify your learning goals. Our programmes can be tailored to your teaching philosophy and the needs of your child. What's more, you'll receive a report at the end of every session which can form part of your portfolio of learning progress.

Learn more about homeschooling support with Cluey >>
Looking for more?
More information about the exemption process can be found on the Governments Ministry of Education Home Education page and National Council of Home Educators New Zealand (NCHENZ) website. You'll also find a section there with more information about home educating a child with special education needs.
Before you register, it might be worth considering the cost and long term impact of homeschooling on your child's tertiary education options.
If you decide to take on the responsibility for homeschooling your child, the curriculum you choose needs to be the best match for their needs. This will make your job easier, and ensure the best outcome in the long run.
How much does homeschooling cost?
Homeschooling FAQs
Do I need formal teaching qualifications to homeschool?
You don't need any formal training to become a homeschool teacher. As long as you meet the requirements and show evidence of learning, you're set!
Can anyone homeschool my child?
Homeschooling is usually done by a child's parents, however families often seek out the services of a qualified teacher or tutor to support their child's learning.
Can I start homeschooling at any time?
Unless you're withdrawing your child from school because of a serious issue, it's best to keep them enrolled until you have received approval to homeschool from the Ministry of Education.
What are the essential subjects/curriculum I need to teach?
Although there is no set homeschooling curriculum, you'll be required to develop an educational programme that is sufficiently broad, age appropriate, and inlcude strong literacy and numeracy components. A good starting place is reviewing the New Zealand curriculum which contains the following learning areas: English, Mathematics and statistics, Te Reo Māori, Health and physical education, Languages, Social sciences, Science, Technology, and The arts.
How much time should I spend homeschooling?
You might find that a four day week works best, or five half days. You need to ensure you cover the requirement that your child will be taught at least as regularly and as well as they would at a registered school, but the way you teach it and the time you spend on each module is entirely up to you.
Will I be monitored by inspectors while homeschooling?
You must complete a declaration twice a year, in April and October. This will:
assure the Ministry that the home educating is continuing
ensure your Certificate of Exemption is valid, and
allow you to receive the home educator supervision allowance.
Even if you do not want to receive the supervision allowance, you must still complete the declaration twice a year. The declaration will be sent to your home address, so you must advise your local Ministry of Education office if you change your address.
What if my child has special needs?
If you have a child who for any reason doesn't fit the "ordinary" box, homeschooling could be a positive option. Homeschooling can often take the stress out of structured lessons, allowing children to learn at their own pace and in their own way. For special needs, always seek as much support as possible, both to ensure you're teaching to your child's unique needs, and to connect with other parents or teachers who might be experiencing similar challenges. Cluey also offer tutoring for special learning needs.
How do I plan my homeschool/learning programme?
You could plan your own curriculum based on the New Zealand curriculum. There are also several out-of-the-box homeschooling programmes, many of which are developed by education experts and based on different approaches and teaching philosophies.
How do I document my homeschooling progress/portfolio?
There's no one way to document your homeschooling portfolio. You might put together a collection of work, which would look different depending on the age and ability of your child. A written diary or essay samples are one example. Maths worksheets, stories based on historical understanding and other creative, inquiry-based studies are other options.
What do I do if I'm overwhelmed?
Will you be able to cope with the mammoth undertaking that is homeschooling? The short answer is yes — when there's a will there's a way. But it's important to understand the realities of homeschooling and seek support in the form of outside tutoring if you feel yourself burning out.