Year 6 English
Students learn about text structures and encounter new and more complex language features. Students read and analyse texts containing complex sequences, non- stereotypical characters and events that may shift in time. They create a range of texts in which they can apply their understanding of textual construction and theme to consolidate increasing control of language.
In-session content
Your content plan appears in the learning environment, sequenced to your learning needs and accessible with ease by you and your tutor.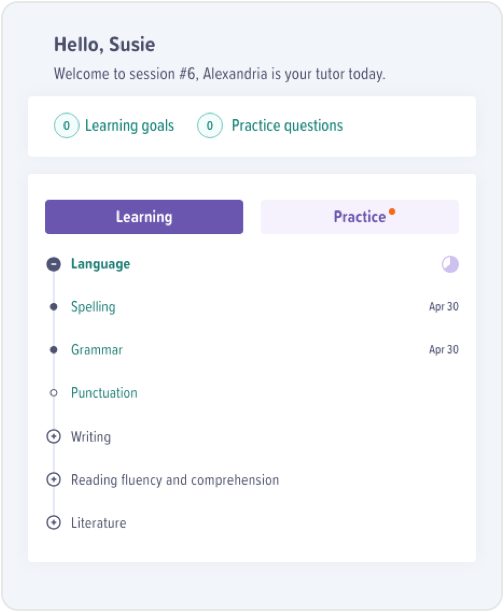 An example content plan sequenced in the Cluey Learning Platform.
Language
Spelling
Grammar
Punctuation
---
Writing
Create imaginative, informative and persuasive texts
Edit own texts
Construct texts with written, visual and multimodal components
---
Reading fluency and comprehension
Complex sentences and unfamiliar technical vocabulary
Literal and inferred meaning
Textual structures and graphics
Effect of figurative language
---
Literature
Fiction and non-fiction texts
Media texts
Poetry
---
Primary English
Year 6 English
Welcome to Year 6 English, where your child will encounter a wide range of text types, written and multimodal, and learn how to evaluate the way in which they make meaning.
Let's tailor a Year 6 English learning programme for
We've got the curriculum covered
Language
Writing
Reading fluency and comprehension
Literature
DETAILS
We've got all your child's learning goals covered
Need to address a specific need?
Perhaps the classroom just isn't meeting all of your child's learning needs or they want to prepare for a specific assessment.
Let's build a learning programme for
How does our approach to learning work?
Tailored tutoring with a plan
The learning programme
Structured around your child's individual needs and goals, our learning programmes adapt over time to build confidence and offer the right help at the right time.
Quality content
Developed by our experienced education team, the content in our learning programmes is structured according to your child's skill level and individual needs.
We use a range of approaches to meet the needs of different students. Our approach is always clear and unambiguous, and designed to help your child thrive.
Meet our education team
Tutoring sessions
Live, face-to-face and online
Expert tutors matched to your child's needs
Demonstration, guided exercises and reviews
Designed to be fun and engaging
View session breakdown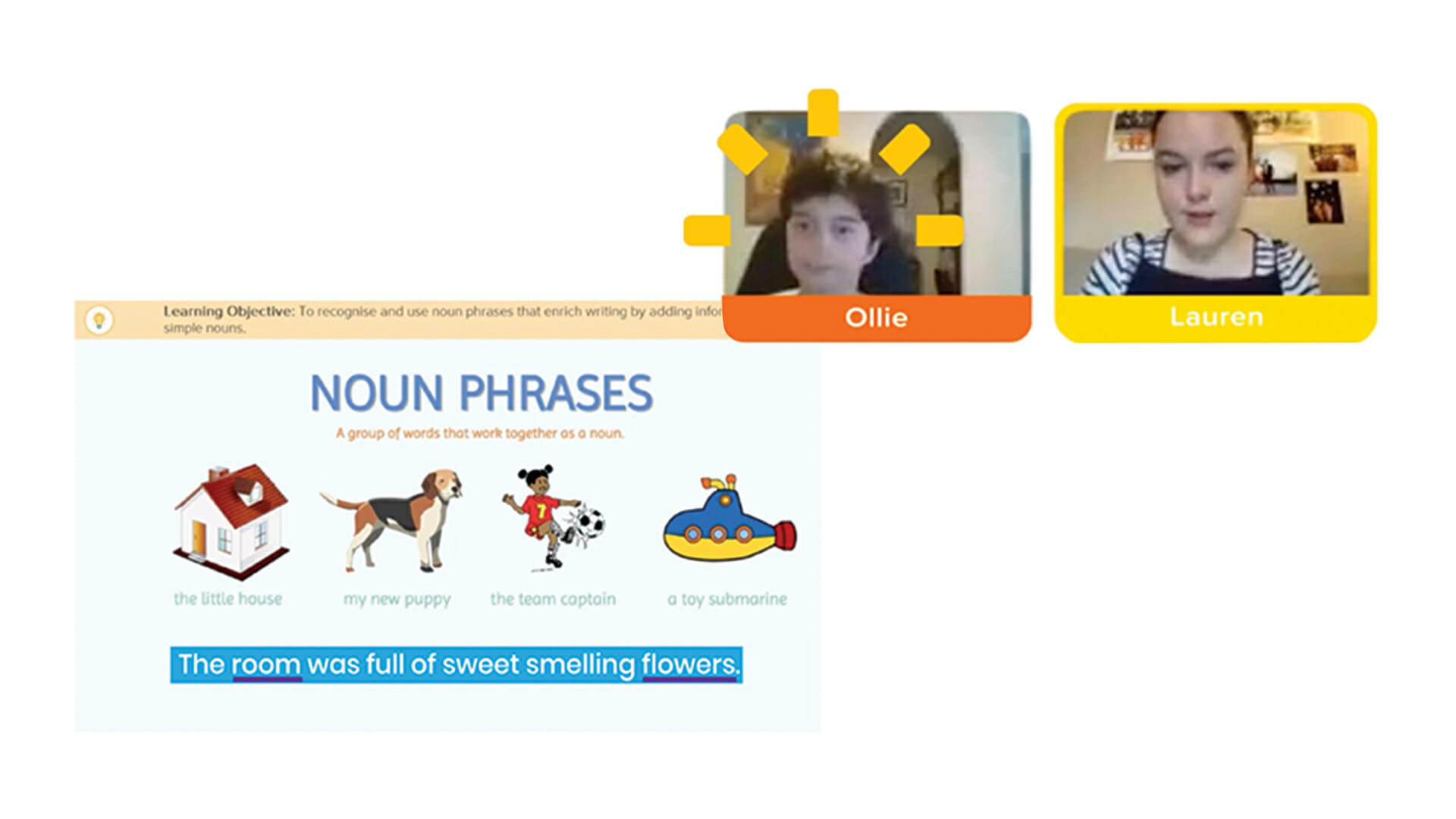 View 1-to-1 Primary English Session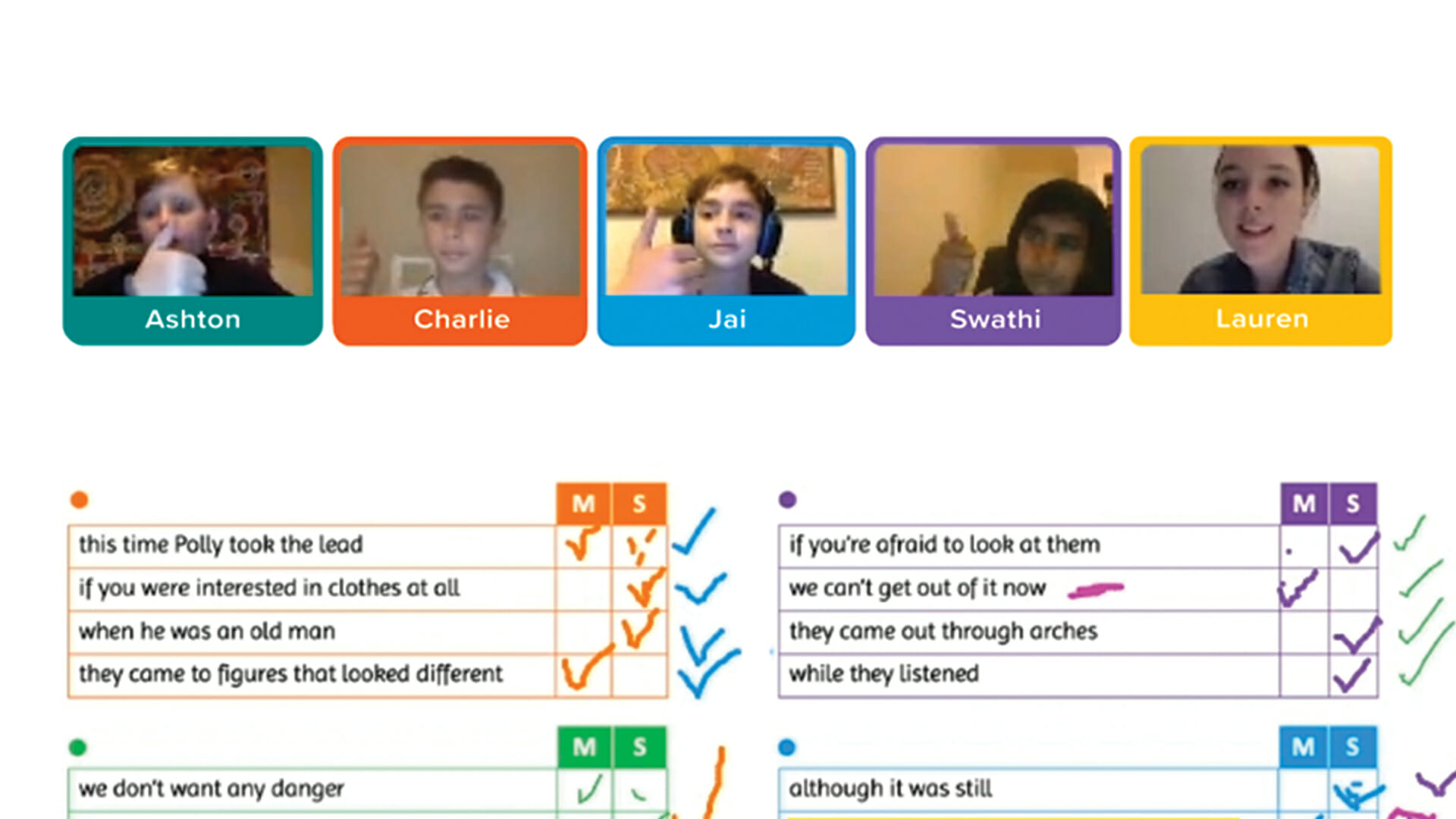 View Group Primary English Session
Practice exercises
Optional practice questions and exercises to work through between sessions.
Regular reporting
Feedback after every session helps you keep track of your child's progress.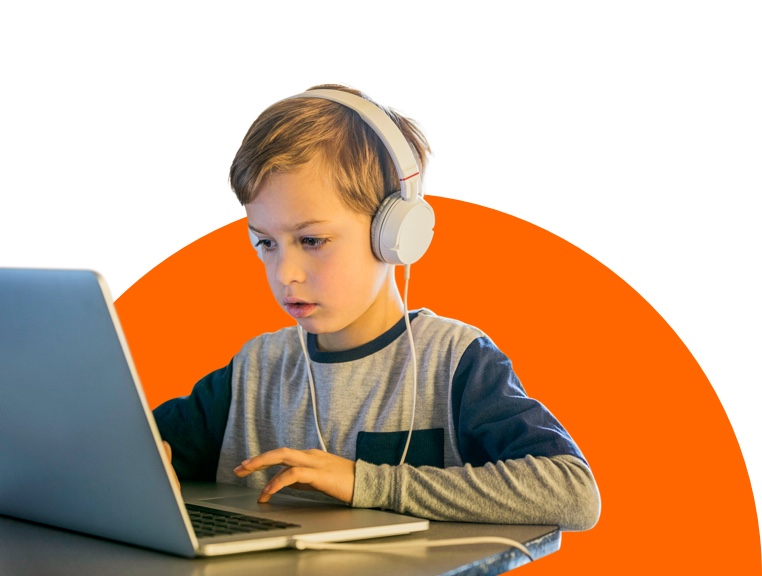 Flexibility
to suit busy family schedules
Learn from home (or anywhere) via our online platform.
Schedule sessions when they suit you, between 7am and 10pm, 7 days per week.
Reschedule easily when things get busy
Consistent
learning leads to progress that matters
From step one to step done, we're with your child for their entire learning journey.
Session recordings allow your child to revise at any time.
Progress reports ensure your child is getting the right help at the right pace.
Guided tutoring helps your child realise their potential.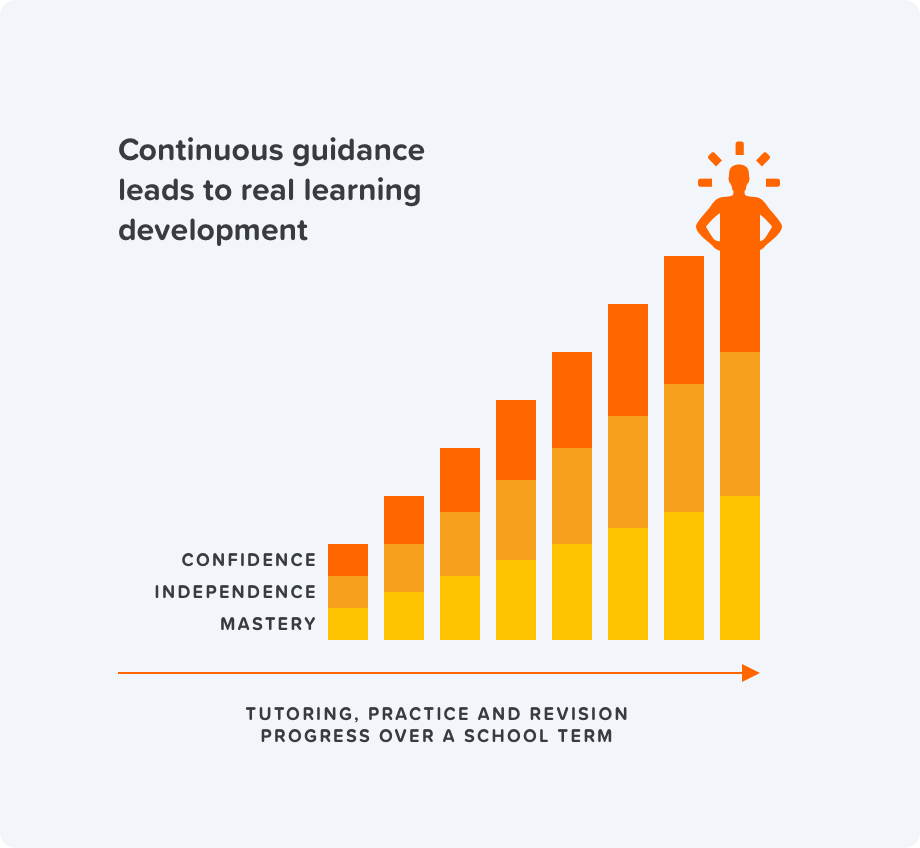 Let's build a learning programme for
Experts in Primary English
Primary English at Cluey
Based on the Curriculum, Cluey's approach to primary English focuses on core literacy skills, including reading fluency and comprehension, writing, spelling, grammar and punctuation, while also providing opportunities to learn about some conventions of language and literature. Our personalised approach gives your child the chance to slow down in the areas they find challenging to ensure they 'get it'.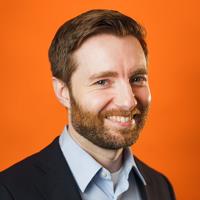 Head of Primary
Rick Molineaux
BA MEd
Rick is responsible for leading our Primary Department and developing and overseeing excellent programmes of learning and tutoring in English and Mathematics for our primary students. Previously, Rick taught across all primary levels, conducted professional development for teachers and was Head of Primary in a British international school.
Meet some of our 1,625+ expert Primary English tutors
Our tutors are all qualified teachers, exceptional NCEA achievers or experts in their respective fields.
Joshua
Teacher
English: Primary, Intermediate & Secondary
Joshua completed his Bachelor of Education (Secondary), graduating with Honours at the Queensland University of Technology in 2010, majoring in English and History. He has experience teaching Secondary English in Australia, as well as teaching both Secondary and Primary English and English As a Second Language overseas. He is passionate about helping students develop their oral and written communication skills as they work towards achieving their educational goals.
Jayraj
Tutor (B.A.)
Mathematics: Primary, Intermediate & Secondary
English: Primary & Intermediate
Jayraj has more than 25 years experience as a teacher in Secondary Maths and Primary English overseas. Jayraj also has several Mathematics text books published for primary and lower secondary years. Jayraj exhibits a calm and collected approach to his sessions. He encourages students to explore mathematical concepts at their own pace, providing guidance to improve understanding. He always focuses on the challenges of written and spoken communication by concentrating on the fundamental rules of grammar, spelling, comprehension, reading and writing.
Meenakshi
Tutor
Mathematics: Primary, Intermediate & Secondary
English: Primary, Intermediate & Secondary
Meenakshi completed her South Australian Certificate of Education in 2020, achieving an ATAR of 94.75. She has 2 years of formal tutoring experience, working with students aged 4-16 in Mathematics and English. She has also privately tutored primary students for 2 years in Mathematics and English. Meenakshi aims to deliver engaging and enjoyable lessons to students of all abilities to help them achieve and exceed their academic goals.
We've helped families around New Zealand
From catching up, building confidence and excelling in school, parents and students alike agree that Cluey works.
82% of Cluey parents agree their child's grades have improved
85% of Cluey parents agree their child is more confident
Cluey is helping students with a wide range of learning needs
Read reviews
English confidence has increased
"My 10 year old has had a 'in person' tutor before Cluey Learning but they didn't really engage him and it wasn't effective. Our experience with Cluey has been really great for him, Melissa has really engaged him and worked with his personality so well. I think online tutoring at home worked especially well for us, its easier and the tutors are fantastic. As a result, his confidence with English has really grown. We are very happy with Cluey learning and would happily recommend them."
Let's build a Year 6 English learning programme for
Cluey 1 Hour Tutoring Sessions
Weekly learning through live tutoring sessions, feedback & practice
Each student's individual learning journey is supported through a series of live face-to-face sessions with an expert tutor matched to the student's needs. We cover all the theory and examples needed to ensure comprehension, and our sessions are designed to be engaging and encouraging.
Our expert tutors offer guidance through demonstration and worked examples and assign targeted practice questions to help students master the topics and concepts covered.
After each session, personalised feedback is provided to help students and parents track their progress.
Session breakdown
First 5 Minutes
Establishing the session theme, why are we here?
Discuss student's areas of focus (if first session)
Review previous session's assigned practice (if subsequent session)
Set session learning goals
---
45 Minutes
During the session
Work through exercises based on the topics and concepts for each learning goal
Tutor demonstrates, guides and explains concepts
Work through any challenges
Students are encouraged to explain their thinking to clarify their comprehension
---
Closing 5 Minutes
Reflection and looking ahead
Reflect on what has been achieved in the session
Set practice questions
---
Post-session 5 minutes
Tutor written feedback
Tutor provides personalised written feedback about the session to help track progress